I did not make any hunts during the first split of the 2001-2002 Season.  I missed two opportunities to go with Joe and his brothers.  Unfortunately for them, the weather was unseasonably warm with little wind which brought out the gnats.  So I'm not that disappointed I didn't go.
Joe, Dick, Buck and I got together for the opening of the 2nd split in mid December 2001.  We went out to the camp site on Friday.  After setting up the camp, Joe & I fixed up the duck blinds with more cover while Dick went fishing.  The water was very dirty and Dick came home empty handed.  Later that evening, Dick ran the boat back to the launch to pick up Buck.
The weather was unseasonably warm again this weekend and the gnats were ever present when you got out of the wind.  After a few toddies, the gnats didn't seem to bother us all that much any more.  We retired early Friday night and arose at 4:30 a.m. Saturday morning raring to go.
Dick and Buck hunted the "regular" blind, while Joe and I hunting our usual blind in the "back" canal.  I shot extremely poor, but Joe backed me up and kept encouraging me.  I evenutally started shooting better.  Annie hunted with Joe and me and retrieved several ducks including the first one Joe shot.  It was a very high shot and the duck landed in the canes behind us.  Annie jumped and ran like a bat outta hell to retrieve it.  Nice job, Annie!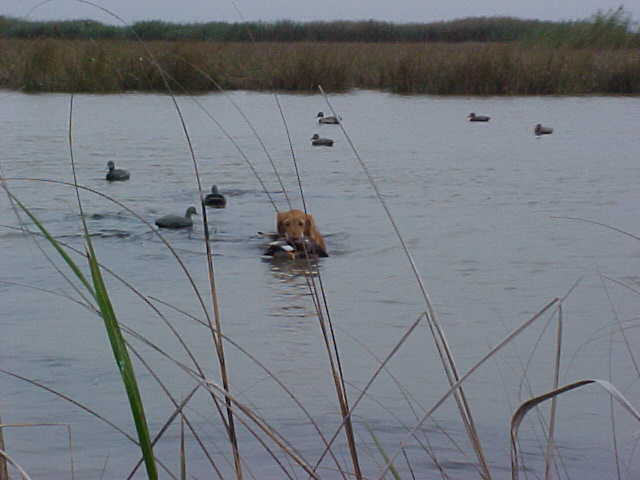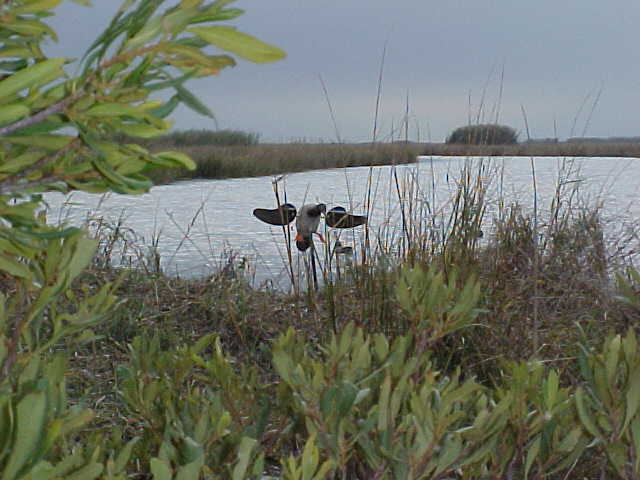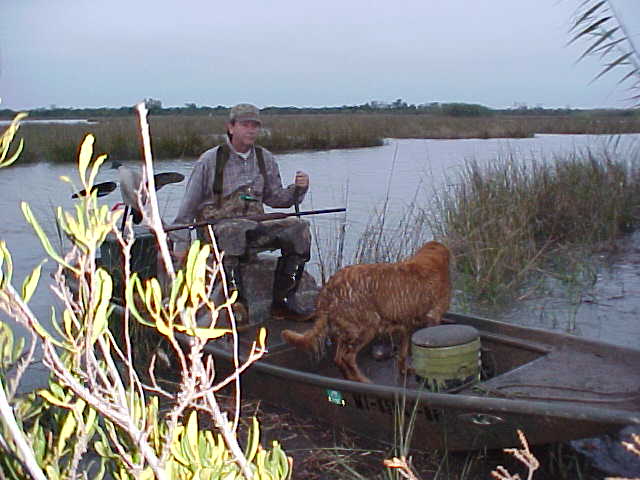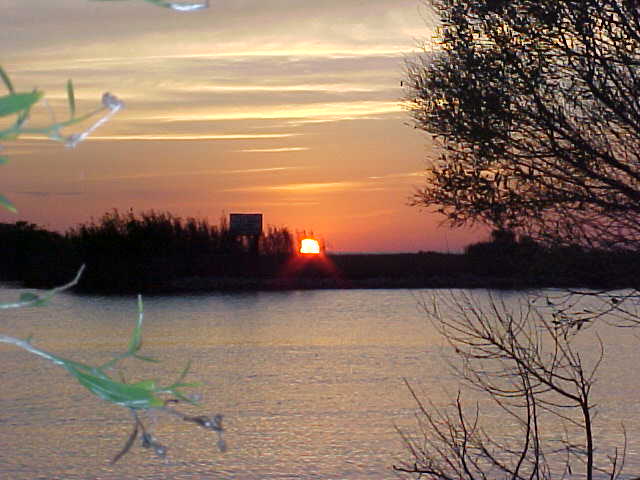 After the evening hunt, we went back to the camp site. Buck cooked up french fried potatoes and a New York Strip for each of us.  We all relaxed with a toddie or two by the fire then went to bed early.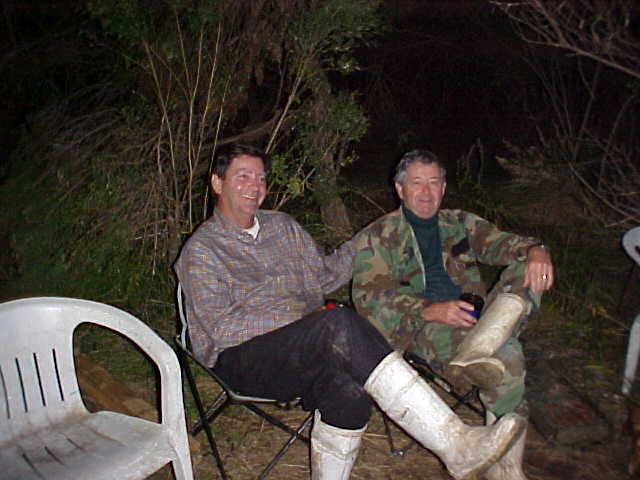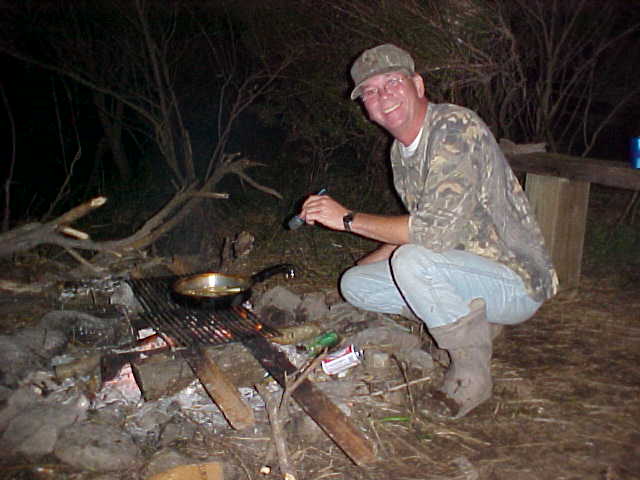 We woke up at 4:30 a.m. Sunday morning.  Buck and Dick decided not to hunt.  Joe brought me to the "regular" blind and he hunting the "back" pond.  I shot very well and in no time I bagged five teal and a nice big Gray duck for my limit of six.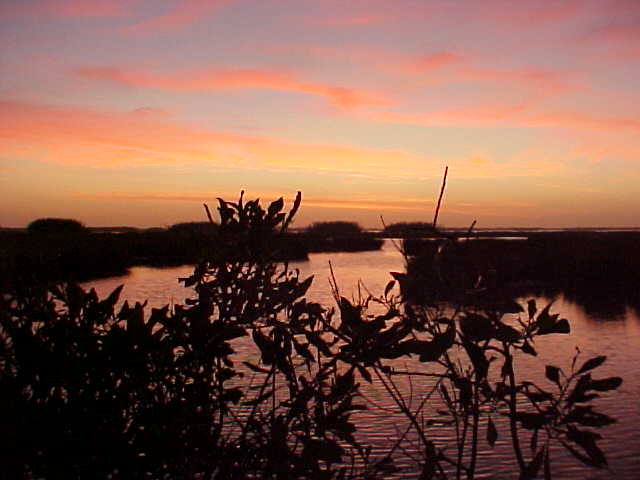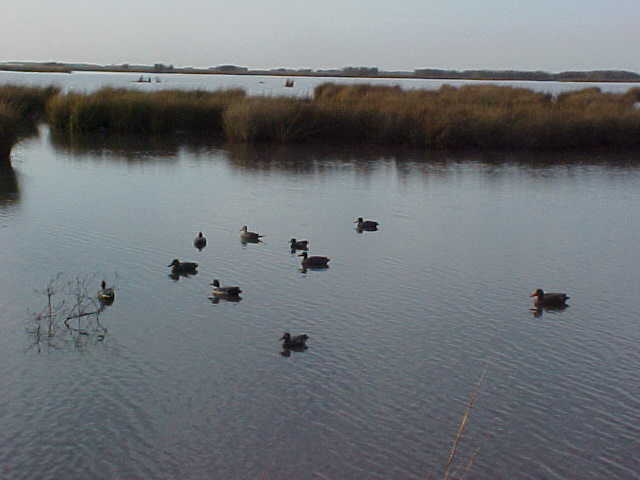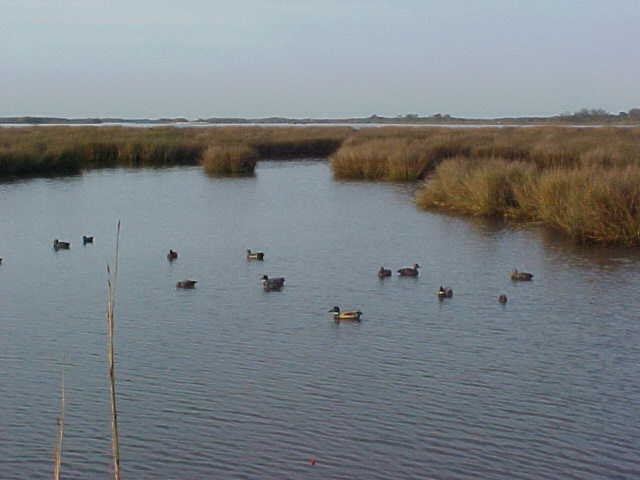 After the morning hunt, Joe picked me up in the mud boat and we headed back to the camp site where Dick and Buck had breakfast waiting for us.  They had taken down the tent and had most of the gear packed.  We finished packing the boats and back to the launch we went.  It was another successful duck hunt with the Pecot brothers. Thanks guys!