The duck blind is a vital part of duck hunting. It is the place where you sit and wait for the ducks to show up. For the most part we cut bushes and stick them into the ground (or mud) to use for cover. This picture below was taken of me in my duck blind on the 'back' cut. Back here we don't need much cover. We hunt from the bank of a bayou and it's not hard to blend into the background. The other duck blinds we use are in ponds or lakes as shown farther down the page.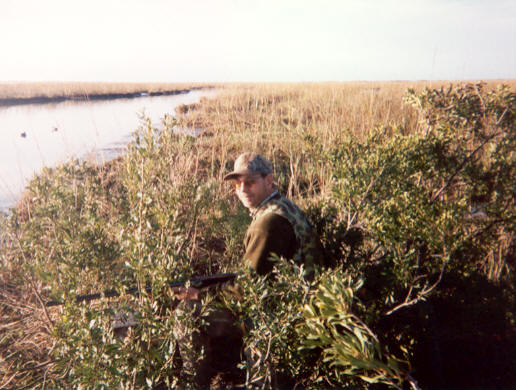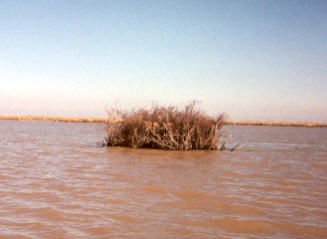 That is the old lake blind (above). This lake used to be a small pond where Joe and his bother Buck used to hunt Mallards. With coastal erosion, it then become a large shallow lake and we had to move to better hunting locations. We still dressed this blind every year in case we needed to use it. Many times in the winter, the water was too low to make it into our other blinds so we were forced to hunt there.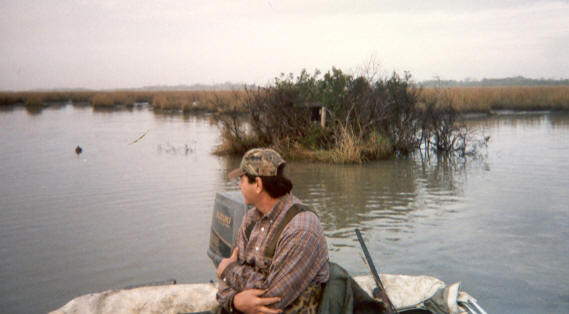 Joe and I built this duck blind shown (above and below).  Although you can't see it because it's covered with brush, it is a custom made blind.  It has a bench seat and a shelf for holding shotgun shells.  It has a solid floor and hooks under the shelf to hold our shell buckets.  It has both a front and back door to enter with our pirogues. Also, when dressed with bushes we could drive the mud boat right next to it and step straight into the blind. It was a great blind.  It was set in a small pond and we shot many ducks from this blind.  It was comfortable and protected us from harsh weather.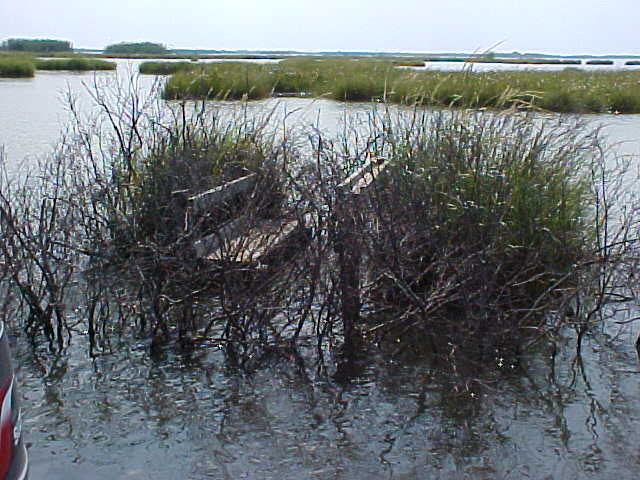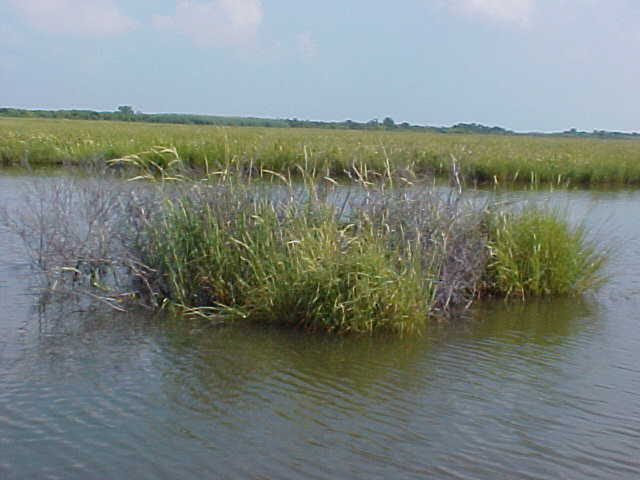 The pictures above were taken of the same blind. The first picture (one above with no cover) was taken during Teal Season 2001.  You can get an idea of the bench, floor & shelf.  You can also see some new growth.  After Hurricane Georges in 1998, Joe & I had to move several large "floatons" of grass that were blocking the entrance to the pond.  A "floaton" is a piece of the marsh that floats and many were created by the hurricane breaking up the marshland.  While I held onto the floaton from within Joe's flatboat, he slowly pulled us close to the blind and we placed these floating pieces around the blind.  We had no idea that 3 years later, they would continue to grow and provide some natural cover to our duck blind. In November, we returned to place bushes around the blind to make it as shown in the previous picture.  Only that year, it looked more natural because of the work we did back in 1998.  Cool!